Monday, September 04, 2006
Helow My Dear Fwens...
Pls relink me aite... THanx a LOt ya....
http://adlinzul.blogspot.com/
Posted at 9/4/2006 10:32:37 am by sayangzul
Permalink
Monday, August 28, 2006
Sat,26th August
Went to My Fwen Solemnisation@ 10am @ Jwest Central wth Hub & Adlin....
Being Solemnised by Farah's Dad wth the Presence of Naib Kadi, Ustaz Suhaimi,
Just One Time Lafaz, Sah Sudah Farah Menjadi Istri Md Zikri, Alhamdulillah...
It happen to be that Farah's Hub is Huby's Far Cousin for Mother's Side...
A'Lillah dah selamat temanku Farah menjadi Istri Orang..
Evning
Went to Woodlands for my Fwen Wedding @ Woodlands...
To Kak Lin & Abg Hashim,
Kami Ucapkan Selamat Pengantin BAru & Mga Mahligai yg
BAru dibina Ini Akan BErkekalan hingga KeSyurga,I'Allah....
Sunday, 27th August
Went to Farah Sanding wth Hub & Adlin n Sunday... Gorgeous Couple, Arent they?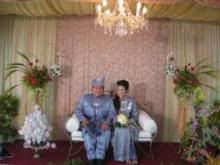 Didnt expect to meet my Yayi there too...
Posted at 8/28/2006 10:25:20 am by sayangzul
Permalink
Monday, August 21, 2006
Sun, 20th August,
Abie Drove us to LabraDor Park for SightSeeing...
Juz Luv the Scenery & View, Very Relaxing & Our Darl Luv it lots...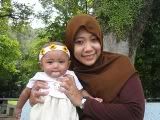 Posted at 8/21/2006 9:46:46 am by sayangzul
Permalink
Friday, August 18, 2006
Posted at 8/18/2006 3:38:09 pm by sayangzul
Permalink
Wednesday, August 16, 2006
Alhamdulillah, today Our Darling, Adlin Zulaikha is 5mths aready but shes is not well since Monday... I'Allah she will get well soon coz it really hurts to see she cry & cry & her gums are swelling... my mom say maybe the teeth want to come out... uh..teeth?true? somehow feel so worried...But neverthless, before I went to work today, when I kiss her to wish her HApy 5mths Darling, she smiled at me...Hub & Me was so happy & hope she will be ok soon,I'Allah as we miz her smiles & laughters....
Posted at 8/16/2006 9:28:03 am by sayangzul
Permalink